>> Exporting Unconfirmed Subscribers from Convertkit *with Caveats*
If you used double-optin, Convertkit will store subscribers who did not yet confirm as "Unconfirmed."
You can't send emails to unconfirmed subscribers in Converkit, but you can export them. You may not want to do this, especially since you likely chose double-optin for a reason.
However, if you want to export unconfirmed subscribers to attempt to send them 2nd-chance or other emails in Flodesk, you can. But it's important to understand a couple things:
Convertkit does not include unconfirmed subscribers in form subscriber lists. You may be able to create a segment in Convertkit based on subscribers to a particular form, and then view only the unconfirmed subscribers in that segment (though I personally found this to be finicky, as though Convertkit didn't want to show me this info).
If you had any automations set up to happen when someone subscribed to a form (such as automatically adding tags), they LIKELY won't have been applied to unconfirmed subscribers.
In other words, even though you CAN export your unconfirmed subscribers, you may have some difficulty figuring out which forms they subscribed to, and any info you might need to know (without manually clicking into each subscriber to see which emails they've received, etc.)
If you only have 1 form and no tags, this won't be a problem. Or, if you have a tiny list it might be worth going through each subscriber individually. But if you have a large list with lots of forms and tags, it will probably be best to just let these subscribers go.
To export unconfirmed subscribers from Convertkit:
Go to Grow > Subscribers.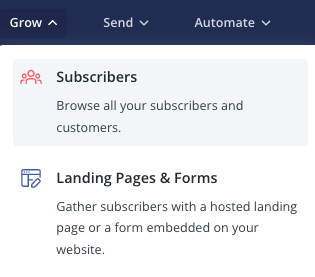 In this dashboard, click on the arrows next to "Confirmed Subscribers" to open a dropdown menu, and select "Unconfirmed Subscribers.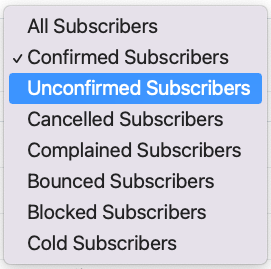 Then, select all of the subscribers in that list and follow the instructions from the previous lesson video for exporting a list from Convertkit.
Complete and Continue